Mission Partner Update - The Williamsons, March 2023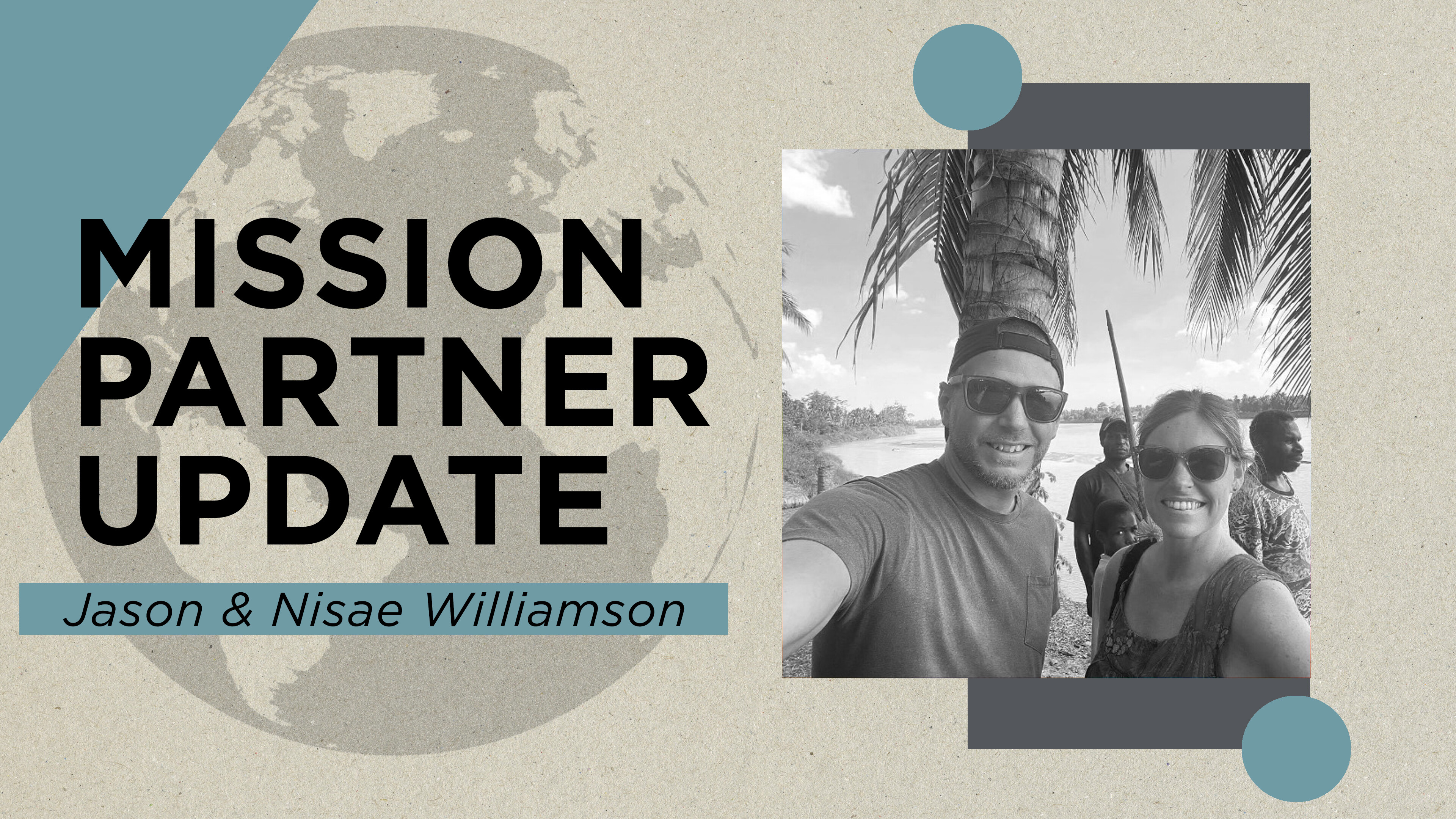 Co-workers in the message of peace!
Dear friends,
I've been reading through the Old Testament lately and it's hard not to get around the fact that God is completely unlike anything else in all of his creation and He expects to be approached that way. Our Father, the one who we praise for being so near and full of grace, is not approached that way by the Israelites in many accounts in the O.T.. In fact, God told Moses he would die if he saw his face. How can man ever hope to find peace with their creator? The answer IS the creator, "For God was pleased to have all his fullness dwell in him, and through him to reconcile to himself all things, whether things on earth or things in heaven, by making peace through his blood, shed on the cross" (Colossians 1:19-20). This peace we experience is a treasure of incalculable worth and value. I hope that never loses its wonder and awe. This is the message we get to pass on to others! What a privilege it is to be a part of this peace-telling mission with you all.
New Church Planters!
In January, we along with our co-workers here in Madang, Dave and Robin Watters, welcomed more new missionaries to our NTM-PNG family! They have been a joy to work with and are making great strides in their study of the national language, Tokpisin. Artenis and Mel Islamaj along with their 2 boys are from Germany. Brian and Lili Poulsen along with their 4 kids, from the US and Diana Ramthun is from Germany. We are so excited to have them here and look forward to what God has in store for them next. Our orientation team has been busy helping to continue to provide further equipping and training for their future ministries. Please pray for their transitions to the country and for God's continual leading for their future ministries here in PNG.
Iski Youth Group
It's amazing that in the church plant in Masa there are around 55-60 youth that attend regularly, many of whom our kids grew up with in our previous village, and some of whom are actively helping lead in other areas of the church like Sunday school. Over the past few months, we have really been praying and asking the Lord how the Iski church can continue to further equip and train the next generation. While we have been encouraging families to be faithful to train their own kids, we have seen the need for the church to give some intentional focus on the youth. With this in mind, back in December we began helping the Iski church leaders to implement a monthly youth program. Since then, we have had three gatherings. This last week while we were visiting the church, the church organized another event. We had 3 legged races, blind races, and a lesson from Hebrews 12 on running the race faithfully. Pray for the Iski youth to stand up strong in their faith!
Titus in Action
During our recent trip in, I (Jason) was able to teach the book of Titus to the church leaders and Bible teachers along with their wives. What a challenge for them as leaders to continue to examine themselves against the Word of God and to remain faithful in teaching the truth of God's Word. After the teaching, one of the church's leaders' wives, Brigita, said this, "It was good to me to hear the teaching from Titus and specifically Titus 2 which tells us older women to instruct the younger women. I was thinking how there are already young girls my daughter's age who come sit with me and we story about the teaching. My mother also sits with us and she is always encouraging us and wanting to story about Jesus (she is tired of talking about anything else) and we read Scripture together and encourage each other. It's so good that this is already happening! And then we heard in Titus that this what we should be doing as women, so we are going to keep doing it!"
Coming along side our Literacy teachers
As you know Literacy is a vital part of a healthy church. Without strong vernacular readers, how can the church feed itself from the Word? Knowing this, during our recent trip, Nisae spend nearly 10 days giving needed oversight to our Iski vernacular literacy program. She worked tirelessly with our literacy teachers, evaluating the program, and bringing some organization and scheduling to ensure things are running well for our 11th literacy class in Iski. She also revamped and kick-off our post literacy program as well. In addition to this excitement, we also added two new books to our ever growing library! Pray for all the teachers (40+!!) to be faithful and work together for the goal of seeing many more fluent readers of God's Word in the Iski language!
Inapang & Iski Church Leaders Conference
In January, we along with the missionaries from Inapang (the tribe next to Iski) had the privilege of hosting both churches' leaders for a 3-day conference on the importance of Godly disciplines as church leaders. It was a great time of teaching, fellowship, and talking through church issues. After the conference and as they settled back into their villages, some of our church leaders had this to say about the area of personal disciplines:

"I can't have personal spiritual growth without the community of believers around me. I need each of you other leaders to keep me accountable, to help me overcome those things that might slow me down. I've written down all the areas that I believe I need growth in and I'm going to read it to you all and ask for your accountably."

"I've been encouraging my wife lately to stop doing so much garden work so she can be home together in the evenings, and we can gather together as a family to read God's word. This has been helping her to grow because she doesn't read well, and she needs me to have concentrated time with here to read to her. So I'm really thankful! Also, usually when I walk on the trails, I smoke while I walk. I've been thinking that when I smoke, I just think about that and I could use that time on the trails to pray to God. So, I'm going to stop smoking while I walk and use that time to pray instead!"

It was a big boost to our church to gather with other leaders for encouragement and sharpening from God's Word! Please pray that their excitement would continue to spread to others. They recently presented these things they learned back in their church in hopes that others would benefit from it as well!
Thank you again for your prayers and for your partnership in this ministry!
You co-laborers,
Jason, Nisae, Kadynn, Judah & Eden