ON THE FIELD REPORT FROM THE LORD'S MINISTRY IN TRINIDAD & TOBAGO
The Caribbean Islands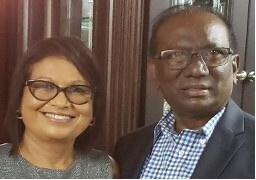 Birbal & Annette Boodram
Office: Vonage calls from USA only # 954-239-7139
E-mail.
WEBSITE: kcbconline.eu3.org
Dear faithful prayer and support partners in Christ
Annette and celebrated our 49 years in marriage on January 6, 2022, and we celebrated 49 years in ministry in June 2022.
We want to thank you all for your faithful prayer and support for the Lord's ministry here in Trinidad and Tobago for 2021
Just checking to see how you all are doing. Since our borders are open, our ministries are opening back slowly, with some restrictions.
We are happy to let you know that we are having church services on Sunday morning Sunday evening in our new auditorium. Also we are doing live streaming on Sunday morning from 8:00am to 9:30 am. on YouTube You can view it anytime by going to YouTube: kcbconline. We are doing social distances and are obeying all the protocol you must sanitize and wear your mask during the services. We are averaging about 75 people on Sunday mornings. And 45 on Sunday evenings.
I am still sending out my morning devotions. Many say they are using it for their family devotions. And we are getting exceptionally good response. I am doing a lot of counseling, especially with married couples. Several couples have trusted Christ as Saviour and are presently attending church.
Trinidad Bible Institute's fourth semester began January 2022 via Zoom we have 67 students enrolled. We are having some great classes.
I am teaching two hours of public speaking and communication and one-hour of Theology. Pastor Sam is teaching Old Testament and New Testament Survey, and Pastor Kallap the book of James.
Solid Rock Extension Seminary is doing well. In January 2022 I taught a three-credit-hour course on Bible Study Method.
Pastor Joseph Durham taught in April 2022, Pastor Bob Brady taught in June 2022, and Dr. Pete Tokar will be teaching in November 2022 all classes will be taught via Zoom; we have about 45 students enrolled.
Annette is planning a Zoom ladies' Bible study with Karen Lorittis from Fellowship Bible Church. Keep them in your prayers.
Pastor Sam and his wife Savi have started back the couple's ministry we had 10 couples attended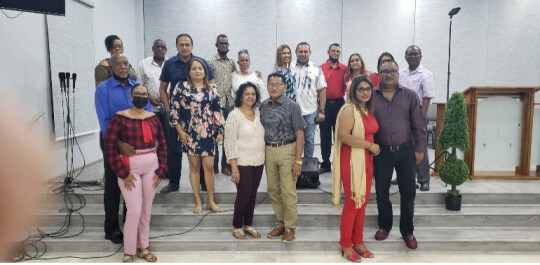 Couples' ministry Pastor Sam and Savi are missing from the picture, they were in the kitchen, preparing dinner for the couples.
Please do keep us in your prayers. we have just completed the parking new parking lot.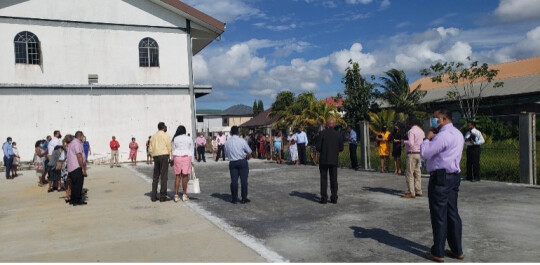 New parking Lot.
Please continue to pray for the financial needs to complete our new building project.
Missed teaching and conducting Family seminars in the other islands due to COVID-19.
I want to also say a special thanks to Ryan and his wife Robin, our USA representative. They have been a great encouragement to us and the ministry here with their prayers and support.
We are continuing to reach many lost souls during the pandemic. What an opportunity to witness.
Also, we are discipling the new believers in Christ Using my disciple booklet on "Seven Steps to Christian Growth."
Love and prayer
Birbal & Annette
We will love to hear from you.
Please send all your gifts and support to our Mission Board (specify for Birbal & Annette Boodram (Ministry in Trinidad) so you can get a tax credit.
OUR MISSION BOARD ADDRESS
Solid Rock International Ministries INC,
4100 Burrow Ave., Memphis Tenn. 38128 USA
Ph. (901) 388-7399 Fax (901) 388-3117
Birbal & Annette Boodram
Dr. Birbal (Rev.) & Annette (Shano) Boodram

Eph. 2:8-10