Fellowship Sister,
I have to first start off by saying THANK YOU for your generosity in creating Hygiene Kits for MUST ministries. It was a beautiful, overwhelming sight to see so many donations that will benefit one of our ministry partners and a local ministry. Thank you for being the hands and feet of Jesus in this way! Your involvement and generosity has been a gift and encouragement to many.
Last month, we wrapped up our Summer Nights events with highlighting how you can be involved in Women's Ministry this year. We talked about how every part of the body of Christ is important and necessary and how the body of Christ needs YOU to be your part. So how might YOU 1). Participate 2). Serve or 3). Pray at Fellowship? I want to encourage every one of you to be apart of Women's Ministry through prayer. Will you accept the invitation to pray faithfully for the women at Fellowship? Will you pray for women as they serve in children's, youth, care, community groups, and on staff? Will you pray that God will do only what He can do to transform us into the women He's called us to be? I'm inviting you to be PRAYER WARRIORS for the Women at Fellowship because our work is nothing apart from the Holy Spirit working in and through us. In our time together, we also gifted the participants with prayer magnets with the words "pray continually: 1 Thess. 5:17" as a reminder to pray for the women at Fellowship. If you're interested in receiving one, let us know and we'll coordinate a time on Sunday for you to grab one! They're pretty cute. :)
If you're interested in serving at future events; we'd love to hear from you! To let us know, please email Analda Merritt at to let us know of your interest. We'll also be loving on our college women through Care-Packages. If you have a female, college student a part of Fellowship and you'd like for them to receive a Care-Package, please email the following information to Analda Merritt ( ).
Name
Email Address
Phone #
College Attending
College Mailing Address
Anticipated Graduation Year
Major
Favorite Candy
Favorite Snacks
Prayer Requests
I'd also like to invite you to consider participating by purchasing items for our college students. We've created an Amazon Wishlist for you to purchase items which will be delivered to the church for a mid-semester distribution to our college students. You're also more than welcome to drop off items in the café from now till the end of the month. Please consider writing a note of an encouragement as well! Hand-written notes are literally the BEST.
We kick-off our fall ministry programs on Tuesday, September 14. For more information, scroll down to the bottom of this update to learn all that you need to know. Just a reminder sisters, that you are a PART of the body of Christ; your SERVICE matters; and we need your PRAYERS.

It's a joy walking alongside you!
Karie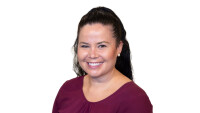 On Tuesday, September 14, we kick off our Fall programming for Women's Ministry with our Two for Tuesday Bible Study and our Moms Side by Side ministry. These ministries are designed to deepen your walk with the Lord and with each other as we make disciples of Jesus. Scroll down to find out more information and to register for one or both of these special ministries.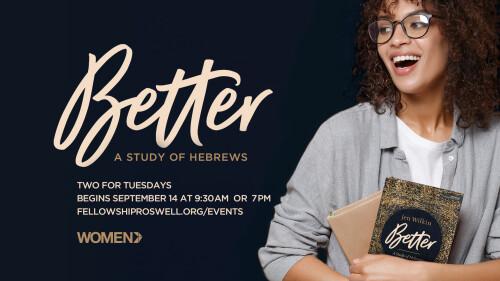 A Study of Hebrews--Tuesday, September 14
God has proivded something BETTER for us in Jesus Christ. Join us as we study the book of Hebrews and explore how Jesus is BETTER than anything this world has to offer. This Bible Study is a 10-week study using Jen Wilkin's "Better: A Study of Hebrews" book. You can purchase your book from Amazon or Lifeway just in time before we kick-off on September 14!
We will be offering our AM Bible Study at 9:30AM and our PM Bible Study at 7pm. Make sure to register, invite a friend or neighbor, and grab your book! Let's dive into God's Word and grow as sisters in Christ.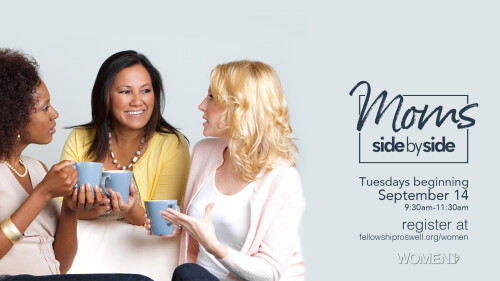 Moms Side by Side--Tuesday, September 14
Do you need to be reminded of your value and purpose as a mom? Do you want to develop relationships with other moms and mentor moms? Moms Side by Side is a ministry geared to moms with little ones (birth to 5th grade) that teaches biblically based strategies for parenting while also providing accountability and encouragement from mentor moms.
Our MSBS ministry begins on Tuesday, September 14 at 9:30AM in the Student Center and takes place every Tuesday morning till mid-May. The program costs $40 for the year. Childcare is available $25 per child per semester.
Make sure to register and we look forward to seeing you there!